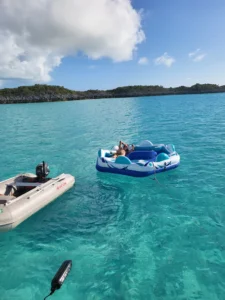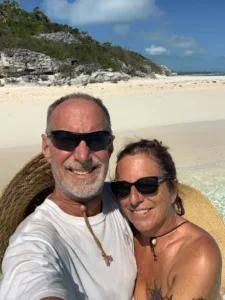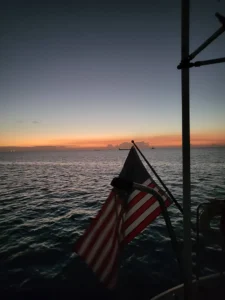 Our sailing catamaran adventures continues
Our friend Mark and his crewmate Carmella from the sailboat Linda Lee recommended we meet at Shroud Cay, the first of the large cays at the northern end of the park. Shroud Cay is about 7 nautical miles south of Norman's Cay. So, after our exploration, a last swim and a somewhat lazy afternoon, we weighed anchor at about 1600 for another delightful sail to our destination.
Mark and Carmella had already arrived by the time we got to the anchorage at Shroud Cay. There were half a dozen other sailboats and powerboats anchored too. But, given our draft advantage, we were able to anchor in a spot away from everyone. We watched the beautiful Bahamian sunset with sundowners from our cockpit. other crew were doing the same on their own boats.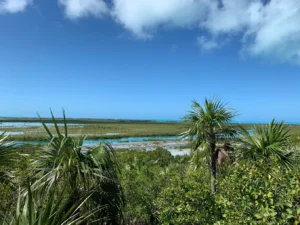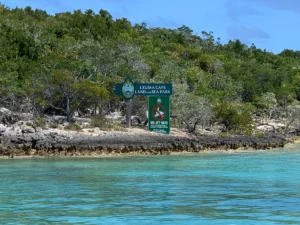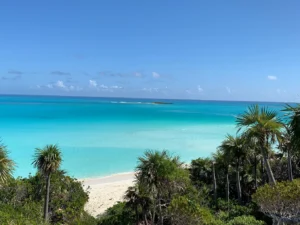 A good stop our liveboard sailors: Exuma Cays
Shroud Cay: a good stop for the catamaran adventures
Shroud Cay is about 3 miles long and the interior is loaded with creeks and mangroves. These creeks cross the island and provide excellent promise for a cool dinghy hike through to hopefully see turtles, rays and other sea life. There are also promising reefs for snorkeling. So we loaded our towels, snorkeling gear, cooler full of local beers Kaliks, and water and headed for the creek.
Our destination was the beach on the other end of the creek which we heard was great and strong currents to swim. There is a tidal range we needed to be aware of as some spots are impassable by dinghy at low tide. The currents through the creek are also fierce, so we were glad we did not take our paddleboards.
A cool place for catamarans like ours
What a cool place! We went around the final bend on the north end of the creek and popped onto a beautiful beach at the inlet, with an ocean view that could not be beat. The current out of the inlet was running at about 4 knots, so landing on the beach was a bit of a challenge. It was even more fun watching others do the same, especially on kayaks and paddleboards. We spent a good deal of our visit here riding the current. The water gets deep about two feet off the beach at the inlet, so the idea is to dive in, take a couple of strokes into the current and enjoy the ride. It was lots of fun, not only to do it but to watch everyone else enjoy the same ride.
After a long while we decided to head back into the creek and to Mojo. On our way out we saw the other crew Mark and Carmella on their kayak. We also saw a small shark sunbathing in the shallows and a fairly good-size turtle. All in all it was a fun dinghy hike. Back at the boat we spent the rest of the afternoon floating and enjoying Kaliks on our "party platform", a six-person tube.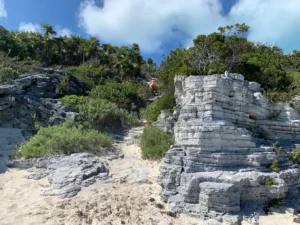 What is the next stopover?
When we met again with Mark and Carmella for sundowners, another incredible sunset and dinner, we discussed the weather and plans for our boating experience and catamaran adventures. Our plan was to head to Warderick Wells and theirs was to visit Hawksbill Cay, so at the end of the evening we all said our goodbyes for now. I knew it would be a while before we would meet again as Mark was heading back to the States from there and possibly to the Azores buddy-boating a crew with some other friends, Bob and Glenda aboard their boat Nero. Finding crew for long offshore trips is not easy but coboaters is here to help.
Hawksbill Cay is uninhabited and known for its beaches, settlers ruins dating back to the 1600s and great hiking trails. As tempting as it was to check Hawksbill out, Kim and I wanted to move further south, and we needed to pick friends up in George Town in a few weeks.
Warderick Wells is where the L&S Park headquarters is located and is in the heart of the park. The island is great for exploring and has Boo Boo Hill. Boo Boo Hill is the highest point on the Cay with a 360° view of the Exumas. Just another breathtaking view here in the Bahamas. BB Hill is also where cruisers come to make an offering to King Neptune. It is piled high with some very thoughtful momentos and signs, but actually looks like a huge heap of firewood. Quite the sight. The legend is that with an offering, the cruiser hopes for fair winds and smooth seas.
Strong wind: A yacht drifted.
On our second afternoon the wind became a bit stronger at close to 20 knots. There was a large yacht, anchored about 300 feet from our catamaran, with a few sailboats anchored behind. We were not worried about the holding as we were on a mooring. But the captain of the yacht should have. While he was hosting his guests by towing them on boogie boards behind a jet ski, his yacht decided to go for a walk through the anchorage. It took quite a while, at least five minutes before his crew on board realized what was happening. As I watched the yacht move sideways at a pretty good clip I could see the crew scurrying around, looking over the side, but not doing much to stop what I thought would be sure carnage to the boats anchored behind him. Luckily my angle was not good so he missed the boats but did take out a small navigation buoy. Beyond the anchored boats was a two-foot-deep sandbar that the yacht would clearly land on if they did not act fast.
Happy Sailboat crew couple living a catamaran adventures
About this same time the crew managed to get the boat underway. I thought the next thing that would happen was they would get the buoy wrapped in one of their props, but all they did was reposition it in another place.
Meanwhile the captain on the jet ski was clearly oblivious to the fact his yacht was in some distress as he continued to tow guests around the anchorage. The crew did finally manage to get the anchor up and began the task of resetting their tiny (for that yacht) anchor in the same general place they started from. They tried several times before they finally got the anchor to catch and hold. Later, when the captain returned, he decided that it would be safer to anchor further out, beyond the two-foot-deep sandbar, so they left. That was the end of our entertainment for the evening.
A good lesson to remember: Always watch your boat and make sure your crew knows what to do or can call you.
We thoroughly enjoyed our two days at this Cay. But, because we needed to meet some friends and crew in Georgetown, we were on a bit of a schedule, so we would continue our southerly move through the Exumas. Plus there are so many more beautiful cays to visit we really didn't mind. Next stop, Staniel Cay.
More on our next blog. Happy cruising! Contact Coboaters if you need to know more about us.