Why visit Newport International Boat Show
July 12, 2023
Team Coboaters
Why visit Newport International Boat Show?
1- Hundreds of boats on the water at the Newport boat show:
The Newport International Boat Show is a fantastic in-water boat show. Every year, crew and boat owners have access to hundreds of powerboats and sailboats. They can walk the docks and board on most of them to compare models from all major brands.
2- The Boat show takes place in downtown Newport
Newport is a great historic city in the heart of New England. Newport has a rich history, and many downtown areas feature beautifully preserved or restored historic buildings. These buildings often house a mix of businesses, restaurants, shops, and cultural attractions, creating a unique and charming atmosphere. Visiting the boat show offers a unique opportunity to enjoy downtown Newport.
3- Thousands of accessories and marine products:
A lot of manufacturers chose the Newport Boat Show to introduce their newer boats and products. On the land side, you will find hundreds of marine products for you, your family and your boat. Exhibitors are proud to display their latest innovations. All segments of the boating/cruising industry is represented: services and accessories like marinas, sailmakers, clothes, motors, upholstery, insurances brokers, yacht brokers, etc…
4- Great time of the year for a boat show in Newport
Fall in New England is always great, so the Newport International Boat Show is a nice destination for boat owners, crew members, boating enthusiasts and their families. It is a great way to meet people and to increase your sailing network.
If you want a crew for your racing season or your next adventure, this is the right place to be. Come and meet us at the boat show. We will be exhibiting at Tent A – Booth #44.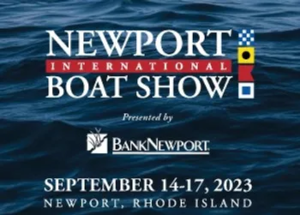 Important facts about the Boat Show:
Newport Boat Show charitable partner:
The charitable partner of Newport International Boat Show in 2023 is the Better Bay Community Boating Center of New Bedford. Their mission is to enhance boating experience by promoting safety for those on Narragansett Bay. A great goal for crew seekers, and boat owners who are looking for sailing and boating opportunities..
Boat Show dates and time:
September 14, 2023 10am-6pm
September 15, 2023 10am-6pm
September 16, 2023 10am-6pm
September 17, 2023 10am-5pm
Newport International Boat Show Location:
Newport Yachting Center Marina 4 Commercial Wharf Newport, Rhode Island 02840
Newport Boat Show entrance tickets
Tickets will be on sale online from June 1st. buying tickets online will give you a discounted rate.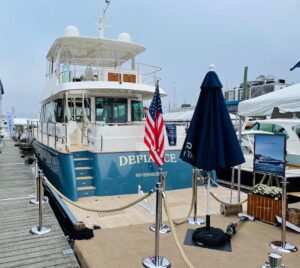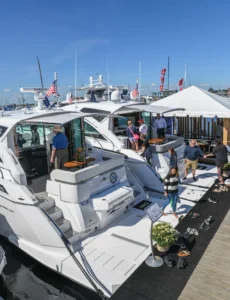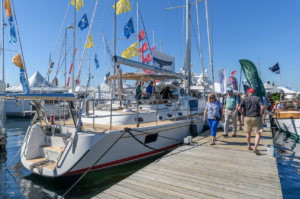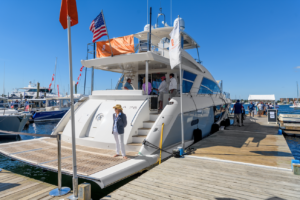 Newport Boat Show parking:
You can park at Easton's beach where you will find shuttles to the boat show 175 Memorial Blvd, Newport. Shuttle service available. Avoid downtown Newport because of heavy traffic and limited parking availability
Another way to go to the boat show is to park in Jamestown and to use the Harbor shuttle. It is a nice ride across the bay.
Newport Boat Show parking tickets
– Easton park is $35 on Thursday, Friday and Sunday and $40 on Sunday. The shuttle runs from 8:00am to 8:00pm (1.6 miles)
– Parking tickets can be bought on line from June 1st.
More information from the boat show official website: https://newportboatshow.com/
Newport Brokerage Boat Show:
Running concurrently with the Newport International Boat Show; the Newport Brokerage Boat Show at the Safe Harbor Newport Shipyard has a spectacular line-up of brokerage boats for sale. This show is free of charge and can be accessed by water taxi located at the end of the Bannisters Wharf fuel dock.
THE SAILING MUSEUM OFFERS DISCOUNTED ADMISSION FOR BOAT SHOW ATTENDEE
Just a short walk away from the Newport Boat Show entrance, we are proud to partner and support the opening of The Sailing Museum. This maritime experience is one not to miss as it connects Newport deep roots in the world of America's Cup racing, the Navy and provides the space for boating enthusiasts to reflect on history, but also encourage those to take to the water for the first time with various interactive exhibits. During the boat show days, show your wristband and get 25% off admission to the Museum.
MILITARY AND NEWPORT COUNTY RESIDENT DAY – FRIDAY, SEPT. 15TH
Sponsored by Hogan Associates Real Estate and Carey, Richmond and Viking Insurance are offering miliary families and veterans as well as residents of Newport County, discounted admission on Friday, September 16th only.
The ticket is available for purchase in-person only for $18 with Valid Photo ID at Gate 1 on Commercial Wharf.
Preview Day of the Newport Boat Show:
Opening day is a welcomed experience for serious boaters to walk the less crowded docks, board and compare the makes and models of power and sailboats, and spend more personal time with the boat representatives.
In-Water Training for both Power & Sail
There is nothing more valuable than hands-on training to make you a better, safer, and more confident boater! All experience levels are welcome for both power and sail. The courses are offered all four days of the show.
Better Bay Alliance
The Newport International Boat Show and its 2022 charitable partner, the Better Bay Alliance share a common mission; we both seek to educate and enhance the boating experience by promoting safety for those on Narragansett Bay.
Official website of the International Boat Show: https://newportboatshow.com/

July 12, 2023
Team Coboaters