The boater's duffel bag: What to pack?
The boater duffel bag: What to pack?
How to pack your boater duffel bag before a sailing or boating trip?
It is never easy to pack your bag for any travel or destination. It may be even more difficult to pack your duffel bag for a sailing trip especially if you have never done it before.
If you are a crew heading to Florida in the middle of August, you might think that you must pack sunscreen, a pair of sunglasses, and a swimsuit. Well, weather conditions are not the same on the beach or on a boat. You must be prepared and pack the right things in order to enjoy your sailing adventure. We list here very important advice for summer or winter sailing trips.
Our recommendations are based on Coboater's experience and feedback from our club members. They are used to travel and sail in many different places, preparing a boater's bag is easy for most of them.
Avoid a suitcase, select a boater duffel bag
Our first piece of advice: whatever your destination and the season of your boating event, forget the suitcases and other rigid containers, and opt for a soft canvas or waterproof bag: a duffel bag. Choose a light one, and make sure it is not too big. Space is limited on board!
You can also bring smaller bags that will travel within your main bag: A beach bag, a small backpack, and a day bag are recommended if you plan to go on shore.
What clothes do you need in your boater duffel bag ?
Pile everything you think you need and cut it by at least a third! Most people bring too many clothes on board. It takes space and creates an extra burden to you and to your fellow crew mates.
There is probably no washing machine on board your boat! No worries, if you are leaving for several weeks, you will often find laundromats in the ports or marinas. You do not need hundreds of shirts, T-shirts or pants.
Choose clothes that are not sensitive to water, humidity, or salt.
The duffel bag for Summer or tropical cruises
These are general recommendations only. Please be prepared to adapt your choices based on the weather forecast and the risk of mosquitoes and other insects you may find on the way.
Even in the summer, be prepared for cooler temperatures. No need to bring too many warm clothes but think of the evening colder weather. It is always colder on the water than on shore.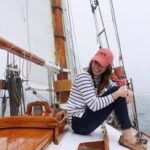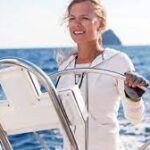 What to pack in your bag?
A waterproof or windproof jacket
Watch jacket for offshore/night sailing
Comfortable and flexible trousers that can be wet
A warm sweater or fleece that can get wet
2 or 3 pairs of shorts
Short-sleeved T-shirts with breathable fabric are best
Deck shoes or sneakers with white soles (black soles leave marks on the deck)
Sandals or flip-flops to go to the beach or onshore
2 bathing suits
1 bath towel
1 beach towel
Warm clothes for the evening or for a night watch (pants + long-sleeved T-shirt)
and of course your boater's bag and some extra bags that you fold within your main luggage.
Don't leave without being equipped for a fall or winter trip. No one would go skiing in the middle of winter without the proper equipment, so it's the same on an off-season boating event.
Your duffel bag for an off-season sailing trip?
A waterproof or warm watch jacket
Waterproof pants
Deck shoes
A spare pair of shoes
A pair of boots are highly recommended
A hat, scarf, and gloves
Warm underwear and socks
Long sleeve shirts
Warm hat
Light, practical, and warm clothing
A warm sweater and one or two comfortable fleeces
2 or 3 pairs of comfortable and soft deck pants
Plenty of long-sleeved T-shirts
1 towel
Other important items to pack in your bag
Clothes are not the only things to bring with you when you go cruising on a boat.
A complete set of equipment is necessary to face the hazards of the sea and not to be caught off guard. Be prepared!
Sunscreen/Sunblock and Lip balm with a sufficiently high protection index
Insect repellant
Sunglasses with a cord to avoid losing them
A cap or hat is essential to protect you from the sun
A pair of sailing gloves
Warm gloves for winter and night watches
A headlamp or flashlight
Your toiletries kit (travel size).
Minimal makeup
Earplugs and eyeshades
A personal first aid kit with your own medication. You can add motion sickness pills.
Your cell phone and its charger. Not all boats are equipped with a 110/220V AC outlet. Remember to bring an alternative charger, such as a 12V or solar charger!
A sleeping bag is highly recommended. Talk to the skipper to verify if he provides linen.
Plastic bags or waterproof pouches to protect your electronic devices (computer, tablet, camera)
Important items to pack
Don't forget your passport or ID.
Vaccination cards or COVID-19 required documentation if any (tests results, …)
Credit cards (do not bring credit cards you are unlikely to use)
Books. You may have plenty of time to relax and read
Notebook and pen
Your camera.
Things that are not needed in your boater's bag
Your expensive jewelry or watches
Your unnecessary credit cards
Your preferred discount cards or gym membership pass
Your non-essential keys. Bring only your home and car keys
Hair dryer and straighteners – you will be in the water a lot!
We hope that all this advice will help you to prepare for your next cruise or sailing experience. Visit coboaters.com to find a crew or a boat and start your sailing adventure.