Sailing America's Cup boat for a good cause
Ike is one of the team members of this non-profit organization registered in the state of Rhode Island. Its mission is "to honor and empower wounded veterans, first responders, and people that have served their community with disabilities by training, educating, and competing in sailing competitions around the globe".
I was very impressed with their goal when Ike explains it at the boat show and I was wondering how Coboaters could help them. Ike generously invited me to meet the team in Newport, RI last May 22. Ike is a US veteran who served in Iraq and Afghanistan where he was wounded.
A blind person at the helm of an America's Cup sailboat!
I did not really know what to expect when I arrived a Bannister's Wharf and walked to the 12 M JI US22 – Intrepid. Sailing an America's cup for a good cause was new to me. Everything was new!
The boat has a beautiful white hull and light green deck and was docked along with another 12M JI. The team was already there and we were welcome on board with some other people. Everybody was ready to go for a sailing experience aboard this fantastic boat that won the America's Cup twice in a row in 1967 and 1970. The weather was very nice and sunny but a bit cool and the wind was predicted to blow around 20 knots from the North. Pretty unusual conditions for Newport at the end of May.
Ike introduced me to Steve Baskis, a young man with a great smile, dark hair, and sunglasses. We chat for a little while and up we go, ready for a sailing adventure. Steve stood behind the helm and was getting ready to steer when I suddenly realize that he was blind! I was more impressed than surprised because Ike had told me injured veterans were on board but I was not expecting to have a blind young man at the helm. Steve showed a lot of confidence and continued smiling and talking with Ike and others.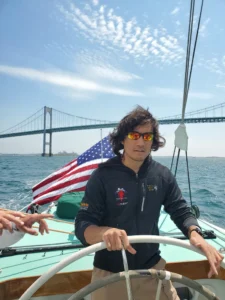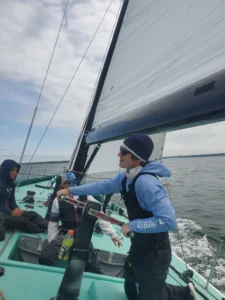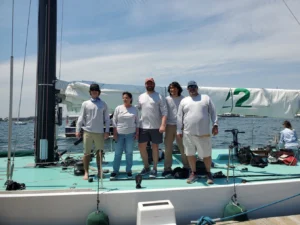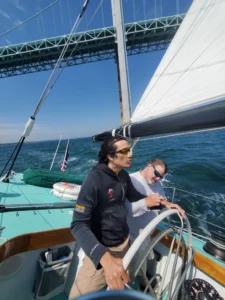 The experience on board the 12M JI starts
We left the dock and the main sail was hoisted by the crew about 15 minutes later. We sailed North to Newport bridge. The boat healed a lot and it easily reached 12 knots. It was fantastic and everything made sense. I understood that Sailing and America's cup boat for a good cause made sense.
Steve at the helm felt the boat and the wind very well. He knew what he was doing and received indications from Mike. Both of them communicated constantly about the wind conditions, the heading, the boat velocity, and all other important data a Helman needs to know. I could really see that Steve enjoyed his time but he kept focused on his steering task during the entire afternoon. It was very impressive to see how he could feel the boat and correctly react. I am sure that most of us on board would not have done better. Steve was able to tack the boat and he kept smiling while the crew took care of the sails. Communication between Steve, Mike, and the crew was impressive too, nobody was yieling… not like in some boats while racing around government buoys. Sail trim was easily done and everything was supervised by Mike.
Even though the wind increased and it became a bit cold, everybody on board enjoyed the afternoon.
What is America's cup 12M JI?
It was my first time in such an incredible America's Cup boat. I always wanted to sail on a 12M JI. Those boats are part of the world's sailing history and emblematic of America's cup. While on board, Mike explained that 12M does not refer to the boat length or to any of the boat dimensions, it is the result of a computation of several criteria. As a matter of fact, the hull length can vary from 18 to 21 meters.
It went so well that the team invited me to sail again with them on the following day. I cannot be more grateful and still think about this incredible experience.
Sailing America's cup for a good cause: How can a blind person become highly competitive in offshore sailboat racing?
Sail to Win's goal is to break multiple blind records. They are currently preparing to compete in the Transatlantic Race from Manhattan, NY to Cowes, UK. This race is the oldest offshore sailing race that is still in existence. It is about 3000 nautical miles long.
To win this race, they are putting together the best possible technology to help a blind person sail competitively. It requires a lot of training and experience on the boat but also on shore. Training is very important for Steve and the team and they will spend a lot of time in Newport during the summer.
You can get involved in this project and contribute to its success. You will not only help this team, but you will also help other injured veterans get confidence in their future when they will understand that such an enormous challenge can be won.
Please click HERE to donate.
Sail to Win team: Sailing for a good cause
The team set to prepare and ultimately join the Transatlantic race is composed of Ike Isaacson, Mike Petterson, Witney Curtin, and of course Steve Baskis. You can find all details on their website and social media pages.
Official websites of Sail to Win:
Related articles about sailing:
Offshore sailing: find the right boat and crew?
12 Best Ways to Find People to Sail With