The majority of captains and skippers you will meet on Coboaters or elsewhere are comfortable taking care of their boats by themselves. They want a crew to help out and have a good time. They do not necessarily need experienced sailors, and sometimes they are suspicious of crew members who claim to be very experienced. Why such a distrust?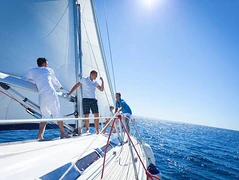 As you know, the best leadership requires that there is only one leader at a time!
Having two leaders on board lead to contradictory orders and misunderstandings as noticed by Francis Giniaux's book: "How to avoid conflicts on board".
Many captains have had the bad experience with a crew member who has seen everything, done everything (but never made a mistake) and has too many qualities (except modesty). This is very unpleasant and sometimes destabilizing for a skipper and for the rest of the crew. Imagine; you are on board with a crew who, as soon as he arrives on board, starts explaining to the owner of the boat that his sails are not set correctly. How will you feel? How will the captain feel?
This behavior is mainly observed among men! Consequently, some boat owners only embark on female crew members as explained in our article: Why so many sailors are women sailors?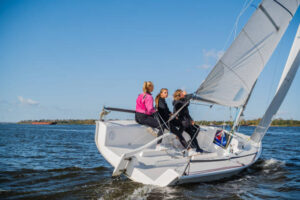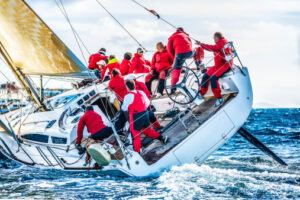 No need to be experienced sailor to find a boat and meet with captains.
Here is our advice for experienced crew who want to find a boat:
We advise all skilled crew members who have difficulties in finding a boarding, on the following:
1. Introduce yourself sincerely and honestly in your profile and/or in your notice. There is no need to trim your marine resume if it is glowing. We advise you to inform the owner, that you know your place as a crew member and respect the authority of the captain. Please read our article: How to introduce yourself
2. On board, behave accordingly. It is awkward and unpleasant for the whole crew to demonstrate superiority (technical or experience) over the skipper. Always act in accordance with his instructions and do not take initiatives before referring to him. When dealing with a knowledgeable person, you should quickly realize how lucky you are to be on board and this will give you more autonomy or ask you for advice. If this doesn't happen, unfortunately you just must put up with it or get off the boat!
3. Build your sailing network. Try to join as many teams as possible and build your own sailing network. The more captains tell good things about you, the easier it will be to find boats. Make sure captains and other crew members publish good reviews or can say good things about you.
What professional skippers have to say?
To conclude, we will quote an excerpt from Willy de Roos' book, "Inaccessible horizon" that one of our members shared with us recently:
Skippers know how to manage their boat
"(as skipper of the boat)…. I don't ask anyone to share what I believe to be my responsibility and when I happen to sail on other boats, I find it only natural to adapt to their conditions. If I were to find them unacceptable, I would disembark as soon as possible, while reproaching myself for not having known better before committing. But, in any case, I will be careful not to lose sight of the fact that, the more competent the skipper who accepts me on board, the less likely I will have the opportunity to have my opinion counted, and conversely, the more I will have the chance to learn. So, when you offer yourself as a crew member, you have to make a choice based on your personal skills. Not all of us are capable of accepting a self-effacing role. We are not all capable of sailing with just anyone. It is up to each person to choose and to assume the decision taken. Either one wishes to participate in the decisions and chooses a companion with a comparable experience, or one wishes to improve oneself, to go further afield and then, inevitably, one must carry the weight of a temporarily lesser experience. All this does not concern the good relationship that my companion and I have. In many areas, (he) could teach me, you have to be aware of that. He is aware of it and so am I. To each his own specialty. So, our friendly agreement is based upon the "mutual respect " principle.
Just so you know, Willy de Roos had a strong character and was probably used to making decisions alone. This did not prevent him from being clear-sighted about himself. It's up to each of us to be so before taking part in a co-navigation!
We hope these few tips will be helpful, and that your next captain will appreciate your skills.